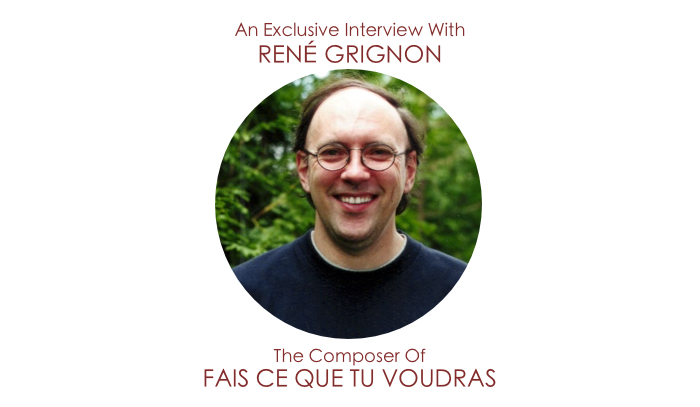 Hello René. Thank you for taking the time to speak with us.
Hi John and Davey. First let me say that I am really happy to answer your questions as this is the first time I've been interviewed about that song.
So I will tell you the whole story...Its a long story...(laughs) It feels good to share it with people.


Can you tell us something about your background in the music business?

I started to play music on my dad's guitar when he passed away, as a way to ease my pain. I was very young 6 or seven years old. It was not even in tune, I was dreaming on it more than learning. After that I studied music at the University of Montreal, so I can read it as much as I can feel it.
I am passionate about music and songs especially. Mad about the Beatles (and the solo career of every Beatles too) I am very eclectic
and I can for instance combine Beethoven, The Beatles, Jacques Brel, Deep Purple, U2 and Lady Gaga on my iPod and I enjoy it all going jogging.

I've always been like that, I think music can make you feel good and happy anytime, even if you are sad.
I am sure a guy in his car caught at a traffic jam, frustrated and about to turn in a road rage,
can change his mood if he hears a good upbeat song on the radio, and feel happy. So music can help to heal the world, for sure.


How did your involvement in this song come about?
Did Eddy come to you with the lyrics or an idea for a song, or was it a collaborative process from the beginning?

Here is the story of my song from the beginning. It's a long story.
I was composing songs in the dance music electronic style in 1985, to pay for some studio equipment. A 16 tracks recording machine cost
a lot of $ in those days, its wonderful for me to see computer today with any number of tracks. "You want 2,000 tracks? No problem"

So I was working at Post Canada. The radio was playing and I heard a song from Celine called "Mon ami m'a quitté" for the first time.
And on the chorus "Moi je regarde les vagues..." I said to my co-worker: "Did you hear that voice? Gee, its incredible."
I was totally hooked from that moment I remember I lost my concentration and was unable to work. I decided to write a song one day for her.
I thought this young girl (aged 16 maybe at this time) sings like an angel with an incredible feeling.

During that period I was living in Montreal and I had a love relation (a summer love) with a woman living in Boston USA.
At the end of the summer she had to quit and go back home to Boston. I was totally sad and depressed, realising this story won't last,
and the last thing I said to her before she went on the plane was: "Stay".
It was passion for me, a dream that ended too quickly and so abruptly, and I was devastated.

So later on as a way to ease that pain, like many composers do, I started to write a ballad called "Stay" and put some words on it about that relationship.

"Stay, make it more than dreams make it more than just a fantasy"

As English is my second langage, I asked a friend (Sonya Ball) to complete the words, and also correct the grammar mistake.
(English is her first langage and she is also a good singer) I gave her a clear direction, told her my story about that girl,
so she did the lyric based on that and as she also sang it on a demo that we recorded in my home studio.
So I thought the result was really great and I immediately thought "wow yes here is a song for Céline".
It was obviously a song for a powerful and beautiful voice like Celine's.

So I simply put it in an envelope and mailed it to René Angelil's office in Laval.
His secretary had the habit at that time of listening to every song she received for Céline,
So she fell in love with my song and called Céline who fell in love with the song too.
Yes if we look at the lyrics, which in fact talk about my love story , we can clearly see that it can be related to other love stories too,
as many songs do, and maybe some of those words surely attracted Céline, as much the music.

By the way here are the english words (if you sing it with the melody in mind you'll see it works perfectly)




How could I know
Love would unfold
When I set my eyes on you
Feeling it grow
Like the sweetest rose
You touched me and I am new

Stay make it more than dreams
Make it more than just a fantasy
Stay time will only bring
More of all that we share secretly
You've got the love to rescue me

There is something inside
And its coming alive
My heart just wants to sing
You do to me
What nobody sees
And its changing everything

Stay make it more than dreams
Make it more than just a fantasy
Stay time will only bring
More of all that we share secretly
You've got the love to rescue me

We've got tonight
And all our life ahead
I know everything
Would be alright
If you just...
Stay

Stay make it more than dreams
Make it more than just a fantasy
Stay time will only bring
More of all that we share secretly
You've got the love to rescue me
So please stay
(Ad lib oooo)


In 1986 René Angélil booked a big studio and Céline recorded that English version in Montreal. (It's unreleased to this day)
Rene hired a band, many musicians, and Céline sings like an angel on it I've got the mix of that Its in a safe in a bank.
Maybe I'll give it to my family for history, I dunno...

As the first version to appear on the market was the french one, (in 1986) it becomes the official version in french.
So if one day the english version comes out, the lyric would simply be signed Marney-Sonya Ball.
The first released lyric on a CD become the official one (so its Marnay's version) and lyricists always get a part of other language versions after that.

So that song was about me. And at that time to my knowledge, René and Céline were not a couple, I never thought they were.
They were not acting like a couple anyway, not even for 1 second. It probably happened years after.
I learned it many years later on the cover of The Colour Of My Love, as did the rest of the world and I was really suprised.

There is some unspoken love on a song like Lolita "Trop Jeune Pour Aimer" which describe a young girl saying she is not too young to love.
But I dont consider this to be any of my business anyway(Laughs). When someone falls in love we all know that it is stronger than our will,
its irresistable (Sim-ply ir-re-sis-ti-ble). Love to me is always a nice thing, the problem in this world is violence, hate, racism, war, etc... Isn't it?



Had you worked with Eddy in the past?

No. He heard "Stay" and started to work on it from Paris.
I met him many months later for the first time. He recorded a french version that end up on the CD.
We became friends and collaborated on other songs for other artist.
The first thing I received from him was a little note that Céline gave me. I put it on my wall and I look at it often. It said:

"Dear René, I want to tell you how much pleasure it was for me to work on your beautiful music.
Your music got the great quality of sounding very unique and I hope we'll get many other occasions to work again together in the future.
I will finish the mix of the record on March 17, and I'll send you a copy of it straight away.
See you soon, Sincerely Eddy Marnay"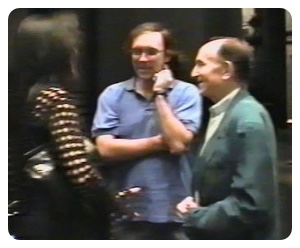 I was really touched by it . When a lyricist that worked with a musical genius like Michel Legrand, tells you that you're music is good, you never forget it. It stays there, in the back of your mind, especially when people criticise your music or even when you're personally in doubt,
this always comes back. I am very grateful for that gift. I think this man had a quality to be very positive about composers and lyricist and singer.
He was a believer. Many people dont believe in an artist until they make it big.
(e.g.: The Beatles being refused at a Decca audition...lol) But after they got success, then they believe.
But Eddy was not like that at all. If he believes, it is right away from the start and he never change his mind after.

I am sure that he believed as much in Céline in the beginning (a very young girl) than after she became a superstar.
So if Eddy was alive he'd be the same believer of Céline today than he was when she started. Thats exactly how he was.
This is a big difference from many others and you could be aware of this difference right away, meeting him and talking to him.

I remember in a restaurant in Montreal many people at the table, and we were talking about different french lyricists,
Pierre DeLanoe, Luc Plamondon, Claude Lemel, Étienne Roda-Gill etc. and someone said that a rock song of one of these lyrics was no good.
And Eddy explained that this rock song was in fact very good and that the lyricist did a super job for many reasons he explained in detail.

So his taste was very large and he enjoyed all styles of music. His catalog of published song on the market is incredibly huge.
I remember something he once said to me and I never forget it but it shows clearly his way of thinking:

"You can gain more from an idea or a proposition someone gives you, if you got an open door rather than a close door .... "

Good lesson! Everyone can apply this in his own life.
I supposed this open door attitude could be the reason why he said yes right away when René called him to meet his new young artist,
a probably 13 or 14 year old girl... Open door yes... and open mind.

I am sure he'd say great thing about Christina Anguilera or Lady Gaga if he was alive, because talent is there.
Extravaganza (gee is that the right word? (Laughs) extravaganza as Lady Gaga can distract some people to see the essential.
There is a real artist behind all that. Dali's painting are interesting because they suprise you after all...
So is Gaga. John Lennon was a bit like that too.... with the conference under a bag, and the cover naked etc. Its entertainment.
Or Hendrix setting his guitar on fire behind all that stuff, a real talent is there.

So yes, we did other songs together. When I met Mario Pelchat, I arranged a meeting with Eddy and this is how Eddy started to work with him.
The first song he did for Mario was "On S'aimera Un Jour" and I wrote the music.
So I met Eddy many times in Montreal, in restaurant, or at Mia Dumont's home. The best memory I got is when I visited him in France.

My girlfriend and I met him in Paris. Eddy arrived in this red sports Bolide (car)Rrrrrrrrr, fast, like a comet.
So he said: "OK I'll make you discover Paris" So we get in the car and Rrrrrrrr he was riding, I mean very very fast!
It was a big contrast to see this calm quiet man, driving like that.

We were in the back, me and my girlfriend, a bit afraid, I mean a lot, and Eddy in the front commenting
"Here is the Sainte-Chapelle".... Rrrrrrrrrrr.... "Here is the Arc of Triomphe"... Rrrrrrrrrrrrrr.... "Here is the Eiffel Tower".
As I was on the left side I could see the Eiffel Tower but my girlfriend was on the right looking at the other side and probably scared a bit,
she did not see the Eiffel Tower. But she said it 10 minutes later, when Eddy asked if we enjoyed the sight of the Eiffel Tower.
She said "Sorry I didnt saw it Eddy" So Eddy stopped the car, astonished, he said to her: "What??? you didnt see the Eiffel Tower?"
she said "No, sorry Eddy" So he said in a very funny sounding voice, calm and very slowly:
"Alright... ok.... fine... here is what we'll do ... I'll go back near the Eiffel tower..... BUT this time if you dont see the Eiffel tower... I gave up !!!"
So it was a wonderful memory , one of those moment when you think "Hey, I am living something special here".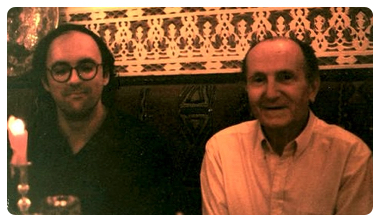 We went to a restaurant near the Arc De Triomphe, where we ate Couscous
(Eddy was a fan of couscous, I went to the restaurant many times with him and it was always couscous...)
We talked a lot about his career. He talked to us about when he begins to write,
he had no money and used to walk big distance in Paris to present a song to someone. Very often without luck.
And he was very touching and emotional talking about his daughter. I can't elaborate on that but it was an emotional moment.
I can say he was a good father.

He talked about a commitee in Sacem that were fighting for some rights, and a producer that was against these new clause's called Eddy privately to arrange a meeting but without the other member of Sacem , and the answer sounds funny in french.
He repeated the same sentence as the guy was insisting. He said: "Non monsieur je ne vous rencontrerai pas!" (No sir I wont meet you).
Just to say here that Eddy was not the type of man to be manipulated. There was no way on earth to manipulate Eddy Marnay (Laughs)
Anyway, we had a great trip in Paris

After he died Mia Dumont, his wife, (She works for Céline since the beginning to this day. She write's to me sometimes from Vegas.)
she asked me to transfer many video'a she got to render it as digital video for archives in computer.
So Mia came to my house with a box of VHS tapes and I converted all of them. There is one that is especially fun (I'll try to send it to you)
where Michel Legrand and Eddy are sitting together at a piano and Legrand play's one of the best song they did.
And as they made hundred of songs together of course they are very close.
Eddy is very open but he is not a "yes man" (Laughs). Especially with a collaborator you gotta be honest...
So Legrand played one of their songs, and change a chord in a very dramatic and suprising way,
and he goes "Oh Eddy did you hear that chord wow, I never thought of it when we wrote the song but its good hum?"
But Eddy replies calmly: "Well I am very happy that you DID NOT put that chord originally... " Haha.
That's funny, how Eddy says with honesty that he is perfectly happy with the original version.

So that's another side of him, he is clear and direct when he talks.
I remember also being at Mia's home and they were talking about a problem with a clause in a contract or something complicated
and suddenly Eddy looked at their cat and said: "Look at this cat he's not bothering about things like that!" (Laughs)
To this day I repeat that funny sentence because all the problem we have as humans often take too much space in our head.
Sometimes instead of worrying, it could be better to go for a walk and enjoy life simply... as cat's do. (Laughs)


What was Céline like to work with at this time? Were you present during the recording of the song?

Yes, sure I was there in the studio for the english version.
After we did "Stay". I kept on composing and we made many demos (Seven I recall) and Céline recorded them, just singing da-ba-da (without words)
So she visited me many times and we recorded on my small studio. Those recordings are also in the bank.
Let me point out that I dont wanna sell them. At the same time I can't throw them in the garbage can I ? (Laughs)
So I put them in a safe in a bank, for history, with the song Stay.
So its demo's plus a final recording of the song "Fais Ce Que Tu Voudras" in English (which is a finished production).

So anyway, she and René visited me many times on a little home studio I had in Montreal at that time (I live in Longueuil now)
When I was working and meeting her I saw a kind of progressive transformation. I think she wanted to sing other styles of music.
And she was listening to Whitney Houston all the time and Michael Jackson too. I think she started to think of an international career in the USA.
I talked to her about Stevie Wonder as the album "Songs In The Key Of Life" is one of my favorite album's (still today).
I really enjoyed the lyrics too as it's against racism (The song Black Man for instance) and its powerful musically.
So I talked a lot about "soul" to her, but I recall that I was too impressed by her to make a lot of comments when she was singing my demos.

I mean, when a singer like that is in front of you, you're astonished and I remember that I was recording her, only thinking her voice is wonderful.
I could not criticise anything, I was learning more listening to her (Laughs)
One day she told me she enjoyed the Stevie Wonder new album with "Part Time Lover" on it and then she did the little phrase perfectly ...

"Facing love up against the sun-un-un-un-un-un-un"

Wow! Just perfect and its hard to sing. So she was practicing soul phrasing.
One day as a joke she started to dance in front of me and my girlfriend to imitate a dancer we talked about and she was good too.
This girl is born for showbusiness, that was obvious... She was listening to soul music and she began to put some soul phrase in her intepretation.
It started at that time that's for sure. It was impressive cause she could do that anytime.... She was singing all the time.
Whitney Houston's influence was really huge.

Now lets talk about René. There is a lot to say ... He is the perfect manager... So a perfect artist plus a perfect manager, I mean... !
I remember that when he called me he always started with: "Hello René? this is René" (Laughs)
When we were recording, René most of the time was on the phone dealing with things.
He used to call people back even if he was not interested, just to show them respect and interest. Very polite all the time, very professional.

I remember I accompanied them to a radio interview with Radio-Canada. We were sitting and waiting and many people came to salute them
and I noticed that René and Céline were always standing up to shake their hands. They never shake when sitting down.
It's a detail but it shows a way of behaving in public relations that was important.

He also asked Céline not to read critics on newspapers, so as to not be affected by it, in case of bad comments.
So he was very protective with her. She could then concentrate on her singing and performing.

When we did "Stay" in studio, as I worked on it as a musician too, I had to deal some money with René.
So we talked about it privately, and he said: "Wait a minute, How much?" He phoned his office and said
"Please prepare a check of X amount and sent it right away to us by a messenger". I said "Well René you know there's no rush!!!"
and he goes:"When someone works for me I want him to feel good!" That's a perfect example of how he was. Thats important.
Most people in this business try to give you the minimum that they can. Not him.... Maybe its a part of his success...
I am sure all the musician today in Vegas working for him are well paid and respected. But also when he disagree's he tells right away and very clearly.

He can fix any problem very quickly. The funny thing is that he has a calm voice so it never sound agressive.
I cannot imagine him yelling for instance (Laughs) But being a manager is not easy.
I remember when a radio in Quebec were playing a parody of a a Céline song, with new words, stupid ones,
he was mad and upset and asked them to stop playing that or he'll sue them.
He is protecting the image of his artist all the time and is very good at that.

Once in a restaurant he told me "Do you know I am a gambler?".
So I didn't know and I asked "But when you mortgage your house to invest in Céline for 2 albums was it gambling?"
He said : "No with her they're was no risk at all" So I he told me about Las Vegas and the pleasure he had to go over there.
It sounds like fun to me, because he was not the type of gambler that lose everything. A happy gambler I would say.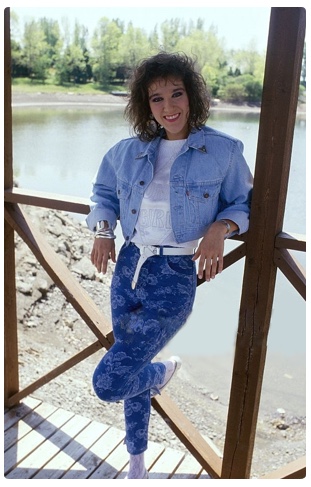 In the big recording studio, for "Stay", Celine had a little trouble pronouncing one word perfectly and Ben Kaye
(a friend of Rene and the ex-manager of Rene's group The Baronet) was there with us. And he was helping on the pronounciation.
Suddenly one of the engineers (I wont mention his name ) said : "Well you know René (Angélil), Céline's got a french accent, it's noticable,
this will surely make it difficult for her to get a career in the USA, like you say you planned to"
and René did not answer anything. I looked at him amazed, and he remained silent.

After the session I was alone in the car with René , some people were recognizing him
(In Quebec he is also well known as a singer from the Baronets etc )
So they saluted him when we were waiting at a red light, he said hello and turn to me and said
"They are Céline's fans" So he always gave credit to his artist, never or rarely to himself.
Then he said "How about a smoked meat?" So we stopped and I asked: "Well this engineer is wrong, her accent is ok,
and Céline will get a career anywhere she wants, right? Why didnt you answer?" He said:
"Because since I started working for her, I hear many comments all the time, but you know the proverb?: The dogs bark, but the caravan goes by..."

It was like no comment could affect him because this man really had a vision of what was going to happen and where he was going.
He said: One day Céline will appear on Johnny Carson or Letterman, big TV shows like that, way before it happened for real,
and maybe some people were laughing. But when you hear the voice and the charisma of the artist on stage, plus the manager she got,
it really sounded like nothing could stop this team ... I never met a man with so much will power, trust and confidence. He had no doubt. You could feel it.
There was a vibe when those too were in the same room, it's hard to explain, but I once said:
"I feel like I am in a film when I am with you" René said: "Yeah i know what you mean" (Laughs)




This was Celine's first proper French language video, what did you think about it? Did it properly convey the song for you?

They did a video with the song, I was happy and proud too as it is the first french video of Céline.
Yes it fits the song perfectly. As you know it was inspired by a relation ending on an airport. And the video is on a train. So that's a right impression.
The director had the right intuition. I never met him or talked to him. Most of the time, you dont need to explain to an artist what another artist means,
he catches that instantly, the important thing is having the right impression and letting the director express himself too...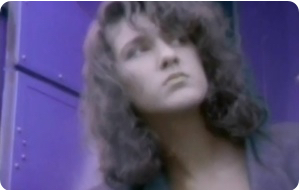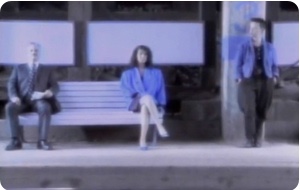 Eddy was coming to the end of his involvement with Celine at this time, how do you think he felt about the changes René was making?

They were ALWAYS very close with Eddy. In many french album they made Eddy is on it. He got 4 or 5 song on Incognito right?
Not on Jean-Jacques Goldman's one but unfortunately at one point Eddy was very sick.
I dont think he wrote lyrics in English... So it's more a langage barrier I think. So it was hard to include him on the english album,
but Eddy was a very close friend to Céline and René until the end.
The new style was not different for the ballads. But songs with beat, and good groove was a good idea for that young woman.
She just had to experiment other style of music as she can sings any style with ease and she can dance too.
With an artist as talented as she is you gotta explore many styles and have fun letting her loose ....
If she feels good singing a song it will sound right whatever the style is.



Have you submitted any songs for Céline since?

Its impossible to answer that question without talking about a bad period for me that took 3 years of my life without writing any songs.
In life what I really wanted to be was like Diane Warren. You know, write songs all day long. Working for many stars and make great songs.
When she describes the way she works it sounds familiar and appealing to me. (And by the way, "Unbreak My Heart" ... thats my favorite song.)

OK so.... I had to sue someone for plagiarism. And I won, and it's jurisprudence, it's even taught in University law schools now, all over Canada.
So it's public, I cannot hide it. A guy called Jean-Alain Roussel stole my song . A whole chorus integral.
It was not a vague ressemblance like for instance "He's So Fine" and "My Sweet Lord" in (George) Harrison's case,
which sounds alike but lightly and on a small part only.
No, in my case it was worse than that, it was "no difference at all", I mean take any chorus and play it TWICE and ask what is the difference?
Play "Unbreak My Heart's" chorus for instance two times, and imagine that Diane Warren composed it but its not released,
and suddenly she hears it on the radio... Thats what happenned to me. So we talk about the worst plagiarism case in history here.

So here is the story, as this interview is like a confession for me, as I never talk about those things before.
I wrote a song (instrumental waiting for words) all arranged, beat bass line chords and with a piano playing the melody. I called it "Song no 7"
It was a good beat happy song, I was delighted with it.

Right after it was completed I protected my copyright (as we learn to do in this business) by sending it to myself by post in a wax sealed envelope,
and started to pitch it to artists. First I sent it to René Angelil (it was before Incognito)
but I had no answer from him, so I started in the followings weeks to propose it to other people.
After a show I met Luc Plamondon briefly and gave him a cassette. I sent it to Marie-Denis Pelletier (a good singer that was preparing an album)
and 2 or 3 more artists. I never met Jean Roussel in my life at that point.
(I knew his name from many albums. He plays on Cat Stevens's for instance, which I love)
so he was working as arranger and composer with Plamondon on many albums, (including) Incognito, and for Martine St-Clair etc...

Then Incognito is launched on the market, my "Song no 7" is not on it but thats OK, that's life I think:
"Too bad but I'll present other song later to René and Céline. No problem!" I thought the album and the new style was super.
Months later a good friend of mine, (I used to let him hear all my songs to get his feedback), called me and said:
"Congratulation René I am very happy for you" I say "Why?" He goes: "Wow I just heard your song , you know "song no 7", on the radio,
so you got a record deal on that one finally? Its sounds really good congratulations" - But... but I said I never got a deal with that song!
He said "What? but I just heard it on the radio its sung by Martine St-Clair, gee you should go and buy the record RIGHT NOW"
So I did and I suddenly I heard "Tous Les Juke Box". Same chorus, same beat, same melody as "Song no 7", I mean it was breathtaking,
it was identical. You know not just a little bit, it was IT !!!
It was my song but the credit was: Music: Jean-Alain Roussel. (Word:Luc Plamondon)
So I remember that I stayed silent for hours and hours just sitting and looking at the wall.... deeply hurt. Wondering what to do....

As it was the same chorus exactly , same chord , melody, tempo, bass line , there was no doubt in my mind Roussel stole my song,
directly from my cassette. But as I dont know him... how can I prove it? I talked to Eddy about it.
He said: "You got a sealed envelope just say that you wrote the music before him and that's all, a song belongs to the creator,
copyright is an important principle, it applies to all creators. If you created it, its yours, period"
Eddy had a couple of songs on Incognito with Roussel, but I know that he didn't like the guy at all for many reasons.
I wont elaborate on that but I know he refused to talk to him on the phone for instance.
In front of me, Eddy called Socan (performing organisation) to say: "I dont know this mister Roussel anymore".

So anyway Plamondon called me too, and he said he believes me, and stopped working with Roussel right there.
He also said he never heard the cassette I gave to him after a show, and he certainly never play cassette to Roussel of others composers songs.
You also have to remember that Luc is considered as the great copyright defender here in Quebec. He asked me many times
"How on earth Roussel heard your song?". I said I dunno yet but it cannot be a coincidence, as it is the same thing.
After that I was unable to compose, and was sad and depressed.

Of course I thought about letting it go and forget it. But deep inside I could not accept it.
For me it meant keep on composing songs and pray that nobody steals it. Is that normal?
Can I accept that as everyone says at the same time that yes copyright is protected. Is it protected? I called Socan and Sodrac,
both performing rights organisations and they could do nothing. They told me a lawsuit was the only way (or a friendly agreement from a lawsuit).
I took the decision to start a lawsuit after the next event.
I went to a grocery store and suddenly I heard my song on the radio, I felt it was calling me. And I had to ask someone for a chair I almost fell down,
my knees were bending I felt dizzy you know, I was suffering mentally but now I realsised it was physically.
So an employee took care of me "Are you alright sir?" And I made a promise to myself that nothing will stop me from getting back my music. I thought:
He is gonna have to give it back to me, it's my song, my credit, my rights. So he'll give it back to me or I'll sue him... but I will never surrender."

It was hell anyway for me, as I felt so bad, so I will choose which hell it will be... Otherwise I wont be able to compose music anymore....
On that chair I decided to refused to live in a world where copyright doesnt exist. I refused that jungle.
This is what I decided on that chair. Reasonably or not.... I promised that to myself and felt better after....

I suspected that a lawsuit is not a bed of roses. You gotta prove everything you say, without any doubts. It costs a lot, it takes a lot of time.
So first I tried a friendly agreement that my lawyer sent. The answer was an insult letter. Something like:
"The judge will make the difference between a loser composer like you and a renowned artist like Mister Roussel"
Then I thought "Ohhh you wont steal my song than insult me after OK then I'll sue you"

To start a trial, in law, you need an inscription, a demand, and you have to answer many questions
then they decide if they accept for a trial or reject the demand. I had to give for instance all the names of the persons I gave the cassette too.
Including René Angélil. But Roussel just worked with him and he talked to René about it in person but in a way to make me look as the bad guy.
So he said to René something like: "Grignon said you made me hear the song..."
(which is false I didnt accuse anyone, I just gave all the names, my sealed envelope was enough to prove I wrote it anyway).

So René called me, based on Roussel explanation, and tried to understand what was going on, he said he never made Roussel hear "Song no 7",
I said "I never pretended you did, but I had to give the name of everyone I sent the cassette too" he said "you should not sue him"
But I said "I am sorry René but I will... " I understand his point of view, that its not good for a carreer etc, but my decision was taken.
I received much advice from almost everyone around me.
Its easy to give advice to someone when you dont live the experience and are not involved emotionally.
I probably heard: "Why didn't you try a friendly agreement?" 50 times as this took 3 years.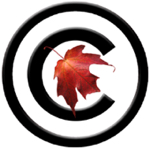 Just before the trial, in May 1991, we learned that Allan Katz (the manager of Marie-Denise Pelletier to which I sent a cassette)
went to see Roussel for an album, with my songs and other materiel he had chosen for her next album.
He left my cassette and other songs at Roussel's studio for many weeks. Finally they didnt agree on the budget.

So now I had 2 things: a sealed envelope plus an event that prove he had my cassette at his studio.... Then his lawyer started to panic.
(I remember the first day of the trial I went to look at him directly in the face and said "you're gonna lose!" I probably had the eyes of the tiger!)
Roussel said he wrote the song in front of Martine St-Clair but she testified it is a lie, and her manager too.
And one of my expert's, Sylvain Lelievre (a fine composer in Québec), decared in a newspaper: It is a steal!
Another one, Robert Léger, said that it couldn't be a coincidence . I also had my sealed envelope.

Here is what the judge Pierre Denault said on the official final judgment:
"It's an obvious plagiarism from Roussel and a violation of Grignon's copyright and I order all the rights of the music to be given to Grignon"

I won the trial on the 28th June 1991.

So I won (I never thought it would be so long and so hard but I never surrendered) and I received all copyright of the music
(plus the royalties 6K first, then it became 10K with time overall) It was not a question of money as of principle.
Anyway I had spent a lot to my first lawyer. (To make a long story short, my first lawyer took too much time to get to the point and get a trial date,
spending hours on the phone with everyone and sending me the bills, and he left me when i had no money left (I gave him near 8K)
So I found another lawyer ( Gabriel Lapointe) a wonderful human being that became a friend.
He did it for free (pro-bono) even though he was considered one of the top lawyers in Montreal)

After I won I went to a TV interview in Quebec. From my Hotel , I went to the pool, entering the water and right on cue, by luck,
I heard my song "Tous Les Juke-Box" on the radio and it felt so good and I thought of that promise on that chair and smiled and thought:
"See? I got it back now" and I could feel good for the first time, hearing it.
I'm sure all composers feel proud when they hear their songs on the radio. It's worth more than money....
I'm sure Diane Warren felt good & proud when she heard "Unbreak My Heart" (receiving big royalties check in her case must feel good too! Haha)

If its original and you created it, it's yours and you must not suffer hearing it.
On the contrary, it must be fun and joy and you never know which one will become a hit.
The whole of showbusiness is based on ownership of rights, and copyright organisation collect royalties for creators.
Thats the way it should be. I could not live in a world where this principle doesn't exist. I could never accept that. It's the same for all writers.
For example, Harry Potter is JK Rowling's baby. Imagine if someone stole her first book when she was totally unknown
She's been refused at first in some places. This is just to make the point that copyright must exist from the start.

I'll end this chapter with an Eddy Marnay sentence he said on a TV interview. He was talking about the importance of copyright. He said:
"Without copyright Mozart dies without enough money to pay a doctor and we put him in a grave. is that normal?"

Eddy was President of Sacem for a while, the big french organisation that invented copyright.
So Eddy was defending copyright and paternity in creation more than anyone.

After all that it felt strange to call people saying "hey I got a great song" even if I continued writing songs of course.
Quebec is a small market , its not like the USA or England. I was also looking also for a second way to make a living with music
as music is the only thing I can do and enjoy to do with passion.

I was interested in TV music. And I was lucky to get a big contract with the Radio Canada station to compose music and write 75 songs
for a children TV series called "Frankie". It was a 2 year contract , 75 episodes requiring music and song on each one.
It was fun and I was experimenting new style of music which is always good and my inspiration came back.
From that point I started to enjoy TV music a lot to this day.



What does the future hold for you?

One thing leads to another, I did more than 500 episodes for other TV shows, from then up to now, (I won't name them all) in all different music styles. One of these TV show turned out on an album. I also had the pleasure to work with a great star in France, Gilbert Montagné, and made an album with him.
I co-produced it, made the music arrangements, played piano, guitar, bass on it and I scored strings for 15 players for all the songs.
This album was released in 2006 its called "Get Ready". I hired Philippe Dunnigan as the chief of the string section,
the same guy that plays in Vegas with Céline now. May I add that Gilbert Montagné is a wonderful human being.
Like Stevie Wonder he is blind, but as Stevie he is very soulful. he sings like an angel with soul. He is my closest and best friend.
I also love his family wife and kids a lot. He has a strong personality. For instance he once tried parachuting.
Imagine the guts it takes to go on a plane and jump (alone) when you're blind... Thats how he is. In fact he said : "I am not blind I see differently."
He feels thing differently, for instance if you lie he'll hear it easily just by the tone of your voice.
If you miss a sense the other senses are more accurate and trained maybe....
And so I also have a project for an album that I will produce in 2013 with new songs I wrote.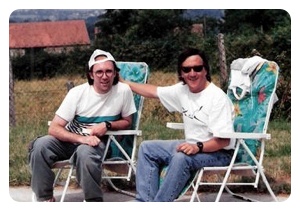 Thank you so much for giving us such a unique insight into the creation of this song and your career René

No problem John and thank you to let me say my story. I knew I had to say what I know and feel one day ...
Otherwise you die and nobody will ever know your version of what really happened. It's my life I know what happenned. Its like the song "My Way":

"For what is a man , what has he got? If not himself then he has not' To say the word he truly feels and not the words of one who kneels".

Thats a great song because it can touch so many people. So I just said the word's I truly feel ...

Oh I'll end up with a card Mia Dumont sent to family and friend after Eddy passed away There is a great citation on it. It says:

"A transitory song can become an immortal song. It only depends on the hand that caress it... " (Eddy Marnay)

Great thought isn't it?

René Grignon.